Reiki Healing
Reiki Practitioner Toronto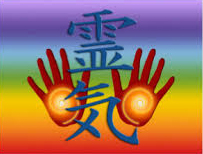 Mikao Usui - Reiki founder
Reiki is a Japanese Spiritual Practice and a form of natural healing. Reiki gently works on the whole person to balance the energy in the Mind, Body & Spirit. Reiki boosts the body's own innate healing abilities.
Some of its benefits: provides deep relaxation - reduces stress - accelerates healing - facilitates the release of pain - assists the body in releasing toxins - removes negative blocks. Also helps: anxiety, insomnia, anger issues, depression - emotional & mental trauma - post surgery recovery - chemotherapy side effects.
The secret art of inviting "Happiness" - The spiritual medicine for all diseases. ​
Reiki Principles
"Just for today do not worry, do not anger, be grateful, work diligently, be kind to everybody & everything"
---
Session In Person
Distance/Remote Healing
Pre-Surgery & Pre-Chemotherapy
Reiki In The Workplace
The client either seated on a chair (wheel-chair) or prone on a massage table, fully clothed, will feel a comfortable sense of well-being and relaxation, while listening to a calming background music, during the session.
at my studio: 1 hour $ 80.-
PACKAGES all the packages must be paid in advance
buy 3 session for $ 200.-
buy 4 sessions for $ 250.-
buy 5 sessions for $ 350.- ​
at client's home: 1 hour $ 100.- PACKAGE of 3 sessions (paid in advance) $ 250.-
Sessions to be paid by personal check, cash, e-transfer or PayPal (by invoice)
Disclosure: Though Reiki can safely be administered to human beings of all ages, "IF" a behavioural issue, school/day care situation involves a minor, it is the parent's responsibility to look for proper counsel and advice. Reiki sessions are designed to support medical treatment, counseling and even other alternative therapies, however, under no circumstances it will replace them.
REIKI for Pets:
at my studio $ 50.-
at client's home $ 80.-
Distance/Remote Healing Sessions ​
To receive a distance/remote healing session contact me by phone you won't need to meet me in person.
During our telephone conversation will explain how it works, will answer all your questions and concerns, then will coordinate time and days.
Includes a combination of Reiki, Ho'oponopono, Tapping, Dowsing and Crystal Therapy.
3 days $ 100.-
5 days $ 150.-
1 week $ 200.-
paid in advance by check, e-transfer or PayPal (by invoice sent to you)
Packages of six (6) sessions $400.- e/session lasts 1 hour.
ten (10) sessions $ 600.- e/session lasts 1 hour.
paid in advance with personal check, e-transfer, PayPal (by invoice)
How do you prepare for surgery and /or chemotherapy treatments? What do the sessions include?
The ideal preparation is 3 (or 5 depending which package you choose) Reiki sessions in advance. Reiki prepares, balances, relaxes your body and your mind for the best outcome.
The number of sessions may vary on how much time in advance the client has and personal preferences.
The ideal time to prepare could be three to five weeks in advance. Once you confirmed I get to work right away to develop a unique individual session which may include meditation and visualization that you can record to keep listening to while at home. Also powerful and effective Reiki Japanese Techniques depending on your personal situation.
First session: Discussion of upcoming surgery/chemotherapy treatments, Reiki relaxation session with guided imagery ideally preparing your body.
Second session: Begins with a powerful Healing Technique, guided meditation and imagery to help you to relax, follows by a regular Reiki session working half of the time over the area/spot which will undergo surgery/chemotherapy and rest of the time covering the rest of the body..
Third session: Beginning with Reiki, guided imagery for relaxation, focusing only in the area which will undergo surgery/chemotherapy.
Post-surgery sessions can be provided at the hospital if the person requests it.
Reiki session (s) can be administered while the person is receiving the Chemotherapy and undergoing surgery.
After the operation/Chemotherapy treatment is done I will develop the remaining Reiki sessions plan which will include again meditation and Japanese Techniques.
Due to business or private demands, many executives and their employees may not be making time for restorative health. Stress is the number one cause of dis-ease, unhappiness, aging and frustration among people.
Everybody can benefit with our Reiki treatments, they are designed to meet each person's individual needs.
Who can take advantage from a Reiki treatment?
Customer services - sales & marketing staff - claim department employees - bank and insurance workers - logistic professionals - human resources professionals - administrative & management - education & health care - communication & media
Benefits to Employer:
increase attendance
improves productivity & mental clarity
relieve stress & tension in the workplace
show commitment to employees and their well-being
Benefits to Employees:
relieves stress & tension
improves concentration & memory
relieves physical and mental fatigue
increases energy and improves the outlook
creates calm and peaceful feelings
improves ability to manage organizational change
We Offer:
Private Reiki sessions to your employees on your job site, we work individually with each client. Either weekly, bi-weekly or monthly half hour or a full one-hour session, on a chair or massage table. All sessions are performed clothed, professional and confidential.
Why Reiki?:
Reiki is a healing technique which brings us back into a greater sense of balance: physical, mental, emotional and spiritual. Generates a sense of comfort, calm and peace. Helps those who are addressing a wide range of health conditions such as headaches, insomnia, chronic pain, depression & anxiety. Reiki safely combines with and supports any medical intervention.
Reiki is neither a religion nor a massage, there is no skin manipulation, a certified practitioner simply works balancing the client`s vital energy. His/hers hands remain in a stationary spot and then several positions from head to toe will follow. It is safe and promotes relaxation.
How Many Sessions are Recommended?
Clients usually report feeling much better after the first session, however, more may be needed to strengthen and maintain the achieved results. Four consecutive sessions are recommended, as each one builds on the last.
For booking appointments, questions or concerns, please email me at reikifreespirit@gmail.com or call me at (416)557-9998.